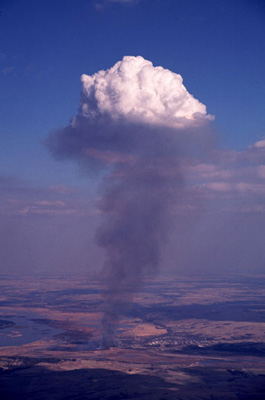 4LAKids: Sunday, 6•Sept•2009 Labor Day Weekend
In This Issue:

•

L.A. CHARTER SCHOOLS GET A CHANCE TO GROW, BUT HOW BIG? Groups can only handle a fraction of the 251 L.A. Unified schools that will be up for bidding.

•

LA SCHOOLS: COMFORTED BUT NOT CONVINCED

•

A STATE OF THE ART, AND STATE OF THE ARTS, SCHOOL: LAUSD Opens Dynamic $232 Million Downtown Facility

•

PROPOSAL WOULD LIMIT LAUSD MEETINGS + PUBLIC SNUB: LAUSD SCHOOL BOARD SHOULD NOT DECREASE INTERACTION WITH THE COMMUNITY

•

HIGHLIGHTS, LOWLIGHTS & THE NEWS THAT DOESN'T FIT: The Rest of the Stories from Other Sources

•

EVENTS: Coming up next week...

•

What can YOU do?





Featured Links:

DRIVING HOME FROM THE SCHOOL BOARD MEETING a week ago last Tuesday (the meeting where they put 250 schools up for bids) I was wondering if-and-how things could get much worse. I turned a corner and saw the towering cloud, billowing brown and white and pink - with orange reflections underneath - rising in the Northeast.

Pyrocumulus. I didn't know the word then - it's the AP vocab word o' th' week: the confluence of conflagration and climate, the mixture of cloud and smoke and ash and superheated air over a firestorm. The greatest examples of pyrocumulus are man-made: think Trinity Site, Hiroshima, Bikini Atoll, the Nevada test range.

"I am become Death, the destroyer of worlds."

Tuesday's smoke would be a pall that engulfed the city in the days following. The fire would spread to consume the northern horizon. It's only half contained today.

It should remind us parents that some of our children who aspire to be firefighters need to be encouraged.

I have spent many meetings and homework time reviewing and recommending Small Learning Community plans for LA high schools. I don't recall any dealing with firefighting and fire control. The encyclopedia says firefighting is a highly technical profession which requires years of training and education in order to become proficient. What's with that?


LAST TUESDAY THE BOARD OF ED had an un-televised round table meeting about changing their meeting schedule and how they do business …eliminating some meetings and limiting public comment at the ones they do have. A reaction, they said, to the shortage of time and scarcity of funding -- and perhaps the inconvenience of democracy. The superintendent told them they need to have more open discussion/round table meetings like that. But the intent is less meetings, less interaction with each other, district staff and their communities.


LAST MONDAY THE MENDEZ LEARNING CENTER OPENED, named for true heroes of public education and civil rights. The school was handed over to the mayor's Partnership for LA Schools, a $ 108,075,369 gift with no pretense at public process or accountability.

From The Times: "In an interview, [Superintendent] Cortines said that he had opposed the hand-over but that school board President Monica Garcia, a Villaraigosa ally, had insisted on it.

"There was an end-run by the partnership," the superintendent said. "They found a way to . . . steal the school, and it's unfortunate."

Unfortunate?

NOTICE: I'm setting aside my bemused observer cap for my Bond Ovesrsight Committee member hat and becoming deadly serious. Someone has to be the trustee for the taxpayer's money and the voter's will. How did this "theft" happen?

ALSO MONDAY the Alliance for College Ready Schools - a very well operated, connected and bankrolled charter operator - opened a new school at the former VandeKamps bakery in Atwater Village/Glassell Park. The bakery was redesigned and revamped - new buildings were built to be a new community college campus. That was-and-is the will and vote of the voters; that was-and-is what the taxpayers are paying for. NOT a charter high school. But apparently the mayor intervened. Apparently due process and transparent decision making was abandoned.

The Times article, quoted above and reprinted entire below [L.A. CHARTER SCHOOLS GET A CHANCE TO GROW...] continues: "Cortines said the new procedures for taking charge of a school would establish rules that neither the mayor nor anyone else could circumvent." But it's already happened twice.

The State Constitution is unequivocal: Art IX §63 "No school or college or any other part of the Public School System shall be, directly or indirectly, transferred from the Public School System or placed under the jurisdiction of any authority other than one included within the Public School System."

§8 "No public money shall ever be appropriated for the support of … any school not under the exclusive control of the officers of the public schools… directly or indirectly, in any of the common schools of this State".

The courts (Superior. Appeal & State Supreme) kept the mayor out of public education in the AB 1381 attempted takeover - ruling that he-is-not-and-cannot-be part of the public school system in Mendoza v. California and Villaraigosa v. LAUSD. It's hard to believe he is unaware of that decision. Going all parental: What part of NO! Is it that is so hard to understand?


THE GOOD NEWS: ● The Mendez School and the Alliance Charter are educating young people in new schools, albeit pirated/privatized/circumvented/stolen away. ● The state is looking into Education Funding and Funding Formulae; QEIA funding - which specifically funds class size reduction in inner city schools - is back on the table. • Test scores and graduation rates are up; the dropout rate is down ● The state is reinstating Healthy Families, our California flavor of the federal State Children's Health Insurance Program (SCHIP)


MONDAY IS LABOR DAY; labor hasn't had a good year in LA or nationally.
Unemployment is high, layoffs at the school district have been mostly rescinded - but custodians and maintenance workers - non certificated staff - have been hit hard. The potential public-privatization of 250 LAUSD schools in the next "this-week's-flavor of school reform doesn't bode well for organized labor. The opening of the Mendez High School as a PLAS School appears to violate a side agreement to the UTLA contract. 4LAKids is often concerned that LAUSD's governance is over-dependent on collective bargaining - the union contract is seen to trump the Ed Code. But a contract is a contract - whether it's with the voters or the taxpayers or collective bargaining units …or the unwritten-but-overriding one that-trumps-them-all: The contract between parents and the school to keep kids safe, educate them well and protect their health and well being.


THE WHACKY/WHACKO NEWS: The right wing is complaining because President Obama wants to address schoolchildren on TV to encourage them to work hard and stay in school …it's a part of his socialist agenda! Or perhaps it takes away valuable time best dedicated to test prep? OMG! 4LAKinds has issues with Obama's education agenda - wethinks he loves charter schools overmuch - but good grief.

If we rewind and replay history to the very seconds of the 9/11 Disaster we find President Bush reading to kids as the disaster transpires. There has been light made of the picture book he was reading - critics would have had him reading the collected works of Shakespeare or the Sept 11th Open Court scripted lesson ("My Pet Goat" is actually a selection from "Reading Mastery" which is supplemental to Open Court)) …but the truth is that George W. Bush was never more presidential than when he sat in a schoolroom and read to kids. Because, gentle readers, the teachable moment and the photo-op symbol isn't about how important he is …but how important they are.


AT THE OPENING OF THE NEW TRADITIONAL SCHOOL YEAR let us each-and-all be safe and well. Let us do good work and learn good things. Let's cough and sneeze into our inner elbows …and play hard and fair when it's time for play. Let's fix what needs fixing. Let's laugh at our mistakes and at our folly.

And let's move forward. EverOnward. Neither mired the stasis of the status quo nor the quicksand of quick reform. ¡Hasta adelante!

- smf



L.A. CHARTER SCHOOLS GET A CHANCE TO GROW, BUT HOW BIG? Groups can only handle a fraction of the 251 L.A. Unified schools that will be up for bidding.


By Howard Blume | LA Times

September 2, 2009 -- A groundbreaking plan to open 51 new Los Angeles schools and 200 existing ones to possible outside control has Randy Palisoc feeling as if salvation is just steps away. A new $54-million campus he covets is rising a block from where his award-winning charter school operates in a rented church.

Palisoc is among many with big dreams since the Los Angeles Board of Education approved its landmark school control resolution last week. The management of about a fourth of all district schools could be up for grabs.

As a result, leading charter school operators anticipate accelerated growth for their organizations and better facilities for some current schools. An 11-school nonprofit group controlled by Mayor Antonio Villaraigosa is eyeing a new high school south of downtown and may bid for more existing campuses. Momentum is building for internal district proposals.

And even the powerful teachers union, which vigorously opposed the plan, is preparing to take part.

School board member Yolie Flores Aguilar, who brought the initiative forward, applauds the results, including the union's openness to playing a role. "This is precisely the kind of shift that my resolution intended to cause," she said.

The Los Angeles Unified School District, with 688,000 students, has labored for years to lift student achievement, and the school control plan could become one of the country's most sweeping education experiments. That's because the district has so many new schools -- a product of the largest school construction program nationwide -- as well as so many struggling older ones. And within its borders are some of the largest and most sophisticated charter school companies anywhere.

Charter schools are publicly funded but independently managed; they are free of some regulations that govern traditional schools. They also are not required to be unionized.

Under the L.A. Unified plan, charter groups and other outside operators will be able to bid to run the new campuses and about 200 of the district's poorest-performing schools.

The board allowed its staff 60 days to develop the bidding process, and Supt. Ramon C. Cortines is to make recommendations for individual schools by mid-January. The time frame is short because 21 new campuses will open next year.

The new schools perfectly fit the playbook of charter operator Judy Burton, who heads the 16-campus Alliance for College-Ready Public Schools. Her board requires her to open new schools each year. "Our vision is to be in the communities that need help the most," Burton said last week. "We will submit proposals." But Flores Aguilar insists that the 200 low-achieving schools also must be addressed with urgency. These schools, which include elementary and secondary campuses, serve almost exclusively low-income minority students, many with limited English skills. They are spread across the district but are concentrated primarily in higher poverty areas in southern and eastern Los Angeles and the northeast San Fernando Valley.

Palisoc, who runs the 400-student Synergy Academies, said his goal is to help other lower-performing schools match the success of his charter, which needs more space to meet its own goals for growth. For now, at the end of each day, he must pack up books and equipment to make way for Bible studies in the room that doubles as his office and the school's computer lab. And every Friday, his teachers must dismantle their classrooms too.

"Our school is an in-spite-of school," Palisoc said. "Schools should be successful because of the system, not in spite of it."

Those best-positioned to bid for more schools are the large charter management organizations.

But charter operators say their groups lack the capacity to handle anything close to 200 existing schools.

The only such effort so far was the 2008 takeover of Locke High in South Los Angeles by Green Dot Public Schools. Green Dot, for the first time, had to run a neighborhood school that included students with a wide array of disabilities as well as juvenile offenders and foster children, an endeavor that stretched the organization.

The leader of another charter group, ICEF Public Schools, said he could undertake four to seven school turnarounds over the next decade. In addition, ICEF chief executive Michael Piscal said he plans to use the school control resolution as a tool to go after the district's $233-million downtown arts high school, which will open this month under district management and is not available for outside operators.

Piscal plans first to bid for new schools that will feed students into the arts high school. He'll also bid for low-performing elementary and middle schools in the area. Rather than pursuing a hostile takeover, he hopes to persuade their faculties to join his organization, arguing that it's best equipped to develop talent for the arts campus.

With some of these schools operating under his aegis, Piscal said, he could press a claim for the spectacular new facility if its current management foundered.

Another key player is Villaraigosa, who used his influence with the school board to help push through the reform plan.

The mayor's nonprofit group, the Partnership for Los Angeles Schools, grew out of his unsuccessful 2006 effort to win authority over the entire school district. The partnership started last year with 10 historically low-performing schools, and it hopes to develop a program for kindergarten through high school, said Marshall Tuck, its chief executive.

To pursue that vision, Tuck said, he would need Jordan High in Watts and Clinton Middle School in Historic South-Central L.A., among other campuses. Tuck also has his eyes on a $183-million campus set to open in 2012 to relieve overcrowding at the Santee Education Complex south of downtown, which Villaraigosa's nonprofit group already manages. So far, many teachers at the mayor's schools have given the project low marks.

But the mayor's team did not wait for a formal process to quietly take control of the Mendez Learning Center, a high school opening this fall in Boyle Heights. In an interview, Cortines said that he had opposed the hand-over but that school board President Monica Garcia, a Villaraigosa ally, had insisted on it.

"There was an end-run by the partnership," the superintendent said. "They found a way to . . . steal the school, and it's unfortunate."

Cortines said the new procedures for taking charge of a school would establish rules that neither the mayor nor anyone else could circumvent.

The reform plan will be overseen by newly arrived district official Matt Hill, whose $160,000salary is paid by the foundation of philanthropist Eli Broad. Hill's staff expenses are likely to be covered in part by a $4.3-million grant from Los Angeles sports executive Casey Wasserman. Both donors have given money to charter schools, and Broad has said he hopes charters will gradually dismantle L.A. Unified, which he considers beyond hope for rapid improvement.

But L.A. Unified will elevate its game as well, said Cortines, who oversees Hill and the spending of the Wasserman money.

One inside formula would be based on 10 experimental pilot schools in the Pico-Union area.

At these schools, for example, the teachers union has agreed to a process by which ineffective teachers, even tenured ones, can be removed. And principals must receive an annual vote of confidence from a school governing committee.

No entity fought the reform plan harder than United Teachers Los Angeles. Union leaders characterized it as a right wing-inspired privatization scheme that could destabilize public education. They may yet file suit to stop it, but they have also urged teachers to participate.

"If we seize this chance, we could turn this destructive idea into a more promising one," UTLA President A.J. Duffy said in a bulletin to members. "It could be the mechanism by which we free schools from top-down control."




LA SCHOOLS: COMFORTED BUT NOT CONVINCED


By Diana L. Chapman | First Person in CityWatch, an insider's look at City Hall

4 September 2009 -- I'd like to say I found comfort in the words of Los Angeles Superintendent Ramon Cortines, but I'm still finding this issue of putting a third of the district's campuses up for grabs to non-profits and charters difficult to embrace.

That being said, and knowing perhaps it's time to move on, I asked the superintendent of the nation's second largest school district, to respond to the worries over a controversial Los Angeles Unified School district decision approved this month. The action – agreed to on a 6-1 school board vote -- allows non-profit organizations and charter schools to go after 50 new campuses that will be constructed by 2012 – or for the same entities to consider the takeover of LAUSD's failing schools.

" I appreciate you raising your concerns and pushing all of us to think about the intended and unintended consequences of the Board's decision on Tuesday," the superintendent wrote last week, responding directly to each concern. "I encourage all of us to continue this dialogue so that we develop a quality process for all of our students."

"I want to assure you this process is not a giveaway of schools, but rather an opportunity for us to work together to ensure we are developing and implementing instructional plans that serve all of our students."

In a nutshell, it seems the superintendent isn't at all concerned about this decision –which he helped steer-- because he has several beliefs under his educational hat that I have yet to absorb:

● Charters are public schools and are, in fact, under LAUSD's jurisdiction. In other words, they belong to LAUSD.

● The resolution allows the superintendent to spell out more rules and regulations that the charters and non-profits would have to follow that didn't exist prior to the action, giving the board more control.

● The Los Angeles unified school board will screen proposals and determine which organization should operate the school, which could still remain with LAUSD .

● In addition, he addressed one of the most primary concerns for me: who would care for special education students, from the developmentally disabled to speech impediments to juvenile delinquents – who legally must be served by the district?

The process, he wrote, allows the district to "put criteria in to ensure we serve all of our students."

"We will not approve plans that cannot serve the student population of the new or program improvement 3+ schools (failing schools).

Per the resolution, "the student composition at each new school must be reflective of the student composition at the schools it is intended to relieve (in terms of demographics, including but not limited to race/ethnicity, gender, socio-economic status, English Learners, Standard English Learners, Special Education, foster care placement), with ongoing review mechanisms in place to ensure retention and student composition at each school continues to reflect that of the overall school community.

"Just to clarify your last point," Cortines wrote, "all students are under the purview of LAUSD, even if they attend a charter. We work with our charter partners to ensure special education students receive the support services they require."

Another issue was the one of parent involvement – which will now be part of the application process to obtain any LAUSD school. Parents will have to be included under this scenario, he said, and will part of the process.

● "Finally, all of our schools, traditional, pilot, magnet, charter, etc. are the responsibility of the Superintendent and Board of Education. We are accountable to ensuring the quality of all of the schools."

The bulk of the decision-making will rest in the hands of Cortines, a seemingly able top administrator who has navigated the political turmoil of the district rather even-handedly.

But as writer Danny Weil, whose authored a book about charter schools, pointed out, there are issues that loom no one even thought of before. For instance, he wanted to know, who will own the buildings, who will pay for the upkeep of the operations and will the charters pay to use the facilities?

David Kooper, chief of staff for school board member Richard Vladovic, explained the district will continue to own the campuses, but the upkeep, leasing rate and other issues will be negotiated.

Each charter will have the agreement for five years, with site visits from Los Angeles officials, twice a year, Kooper explained.

I rarely have received emails enthusiastic about this plan. But last week I received two.

"As someone who has researched and written about the LAUSD for over a decade I have to say that this is the right direction for this oversized and academically challenged district," wrote David Coffin, who is running for 51st Assembly District. "Since 1997 over a quarter of a million high school students have dropped out of the district. Evidence of this was in a study I wrote back in 2007 called "Where have all the Seniors Gone?"

Another reader, Steve Kupfer, emailed: "I believe that this experiment is ultimately a response to a problem that seems to have had no answer under traditional jurisdiction. I'm eager to see how student achievement- the true gauge of its success- is impacted.

"I could not agree with you more that it is the role of parents and family that play a critical role in our public school system, but I also believe that it's time to give alternative means a chance, and the desperation felt in the state of California has brought that alternative upon us quickly given the state of the increasing budget deficits in schools."

OK, so I'm a hold out. It takes me a long time to come to grips with what makes sense too so many people. I just feel uneasy, but then change makes most of us uncomfortable.

A special education teacher seems to feel the same way.

"I work with the two student constituencies that you listed as likely to be left out by the charters, the special education population. I have been asking what will happen to the students with disabilities and delinquency issues. Everyone says not to worry," she wrote. "Yet I worry."

• Diana L. Chapman was a journalist for 15 years with the Daily Breeze and the San Diego Union. She can be reached at hartchap@cox.net or visit her blog www.theunderdogforkids.blogspot.com )



A STATE OF THE ART, AND STATE OF THE ARTS, SCHOOL: LAUSD Opens Dynamic $232 Million Downtown Facility


by Ryan Vaillancourt | LA Downtown Newss

Saturday, September 5, 2009 - DOWNTOWN LOS ANGELES - There has been no shortage of controversy for the High School for the Visual and Performing Arts.

There were gasps over the price, which soared to $232 million. There were both acclaim and criticism for its attention-grabbing design by a high-profile Austrian architect. There was the long delay in hiring a principal, including two would-be leaders who turned down the job. There was fierce debate over the composition of the student body. The school even found itself in the center of a contentious tug of war, as the Los Angeles Unified School District battled with others who wanted a charter organization to run it.

But this week, the focus is not on the back-story. When Central High School No. 9 — the official name for the school at 450 N. Grand Ave. — opens on Wednesday, Sept. 9, the spotlight, for the first time, will be on the students.

"This is an amazing place, structurally, architecturally, but that's not what's going to make this place," said principal Suzanne Blake, who was hired in May. "It's what goes on in the classroom, every single day, the relationship teachers have with their kids in their classroom and the inspiration they can bring to them."

Still, even Blake can't help but marvel at the sprawling 230,000-square-foot campus. During a recent visit, as staff installed dozens of Apple iMac computers, synthesizers and audio equipment, Blake admitted that she is still awestruck every time she enters some of the buildings.

Leading a tour from the 950-seat theater to a smaller black box theater in the same building, through digital animation and design classrooms to dance studios with floor to ceiling mirrors and gleaming wooden floors, Blake got giddy.

"It's ridiculous," she said. "Just incredible."

Though few would argue that the facility is not state of the art, the school had its share of hurdles. Before Blake came aboard, the job was offered to two East Coast principals — each considered the post, then said no. That fueled district critics who argued that the LAUSD was significantly behind in preparations to open.

Supt. Ramon Cortines agreed that earlier this summer the school was behind, but said he is now convinced that the facility is ready to open.

"I think they caught up in an unbelievable way and I think it's probably better that I have given them more rope rather than get in their way," Cortines said. "I've allowed them to do their job."

MATTER OF DESIGN

What most people will notice first about the school is the design by Wolf D. Prix of the Austrian architecture firm Coop Himelb(l)au. Looming above the mostly steel and cement campus is a 140-foot, helix-wrapped tower (if unraveled, it would resemble the number 9). Perched atop the tower is a steel-encased box that was once intended as an events space but, for budget reasons, now sits empty and unfinished.

The school is divided into four academies focusing on dance, music, theater and visual art. Students enrolled in the academies take all of the state required core curriculum classes, then choose from an array of electives specific to their chosen art field.

The theater academy, for example, is housed in a 40,000-square-foot complex that holds the 950-seat theater. A lighting booth in the rear of the house will double as a classroom for aspiring lighting technicians. The visual art, dance and music academies are in their own separate wings of the school. Each building is outfitted with technological and creative equipment specific to the artistic discipline.

There is also an indoor basketball court and an outdoor pool, which abuts a football field-sized grass area for lounging and physical education activities (including yoga).

The library is in a structure that resembles a slightly slanted cone, with its pointed top sliced off and a skylight that lets natural light beam down on readers. There are more than 60 loft-like classrooms with 14-foot ceilings and circular windows meant to mimic constellations.

Still, the helix-wrapped tower is the most recognizable feature. Prix knew it would generate a mixed reaction.

"The tower is polarizing, I know," Prix told Los Angeles Downtown News in January. "People like it. People hate it. But they're talking about the school."

CREATIVE PROBLEM SOLVING

With its $232 million budget and need for pricey equipment, High School No. 9 will not get by on the usual state funding model that supports other public schools. The question of how the facility will reach its potential, and stay in the black, has lingered for years.

Philanthropist Eli Broad, who contributed $5 million in seed money to the school, later backed away from a leadership role after his quest to have a charter organization take over failed. In a March letter to Cortines, Broad said that, if left in the hands of the LAUSD, "the school is deemed to be mediocre and a failure."

Last week, the position was lightened, if only slightly.

"This school has tremendous potential, and only time will tell if LAUSD has the leadership and vision to operate the school at its full potential," said Karen Denne, a spokeswoman for the Eli and Edythe Broad Foundation.

The district hopes that a unique administrative structure will help the school meet fundraising challenges. In addition to the principal, the school is co-helmed by an executive director, Rex Patton, a longtime LAUSD principal, whose role is to develop long-term fundraising strategies and persuade community partners to donate either money or services. So far, Patton said, outreach is bearing fruit.

Among the arts institutions planning to contribute to the school is CalArts, which will lead an after-school video animation program. Administrators and staff from the Los Angeles County Museum of Art plan to teach an after-school class on art museums, tentatively titled "Museum 101."

"These are the kinds of in-kind donations that don't have a price tag, but they're worth a great deal of money," Patton said.

The school will start small, relatively speaking, with 1,220 students in grades 9-11. Later it will add a senior class and another 480 seats.

The students hail from all over the city, as 30% of the seats were reserved for district-wide students. Seventy percent of the seats were open to students living in Downtown and the surrounding areas of the so-called Belmont Zone of Choice.

But at least initially, that ratio will not reflect the student body. While the entering freshman class is indeed 70% local, the district had difficulty filling all of its local seats for the 10th and 11th grades. For those grades, the ratio will be flipped on its head, so local students will represent only 30% of the classes.

Blake attributes the lower local demand for the higher grades to the likelihood that area students enrolled at other schools were less likely to want to switch and leave their friends and school-specific studies.

As for the political back story, Broad's allies who were pushing for charter status have moved on to other battles, said Maria Casillas, president of the nonprofit Families and Schools, and a member of the coalition that was pushing for a charter.

"We were hopeful that with a new staff they'd see the benefit, but at this point I think they'd have to reach out to us," Casillas said. "It's like we're always going to be intruders and we don't want a shotgun wedding here. We wanted a partnership with a lot of valuable resources. It didn't happen."

Blake insists she is focused on running the school and that she has long since shoved aside the charter controversy surrounding the school.

"Had to," she said. "Leave me alone. Stop. Stop fighting. Broad, Cortines, stop. Give me the autonomy to do this."




PROPOSAL WOULD LIMIT LAUSD MEETINGS + PUBLIC SNUB: LAUSD SCHOOL BOARD SHOULD NOT DECREASE INTERACTION WITH THE COMMUNITY


• PROPOSAL WOULD LIMIT LAUSD MEETINGS
BOARD: Officials say move would save time, money, but critics say it would reduce transparency.

By Connie Llanos, Staff Writer | LA Daily News

3 September 2009 -- The Los Angeles Unified Board of Education is considering changes to its meeting schedule that could include holding fewer public sessions and eliminating special committees to save time and money, officials said Tuesday.

The changes, which would take effect this year, were proposed by board president Monica Garcia, who said they were necessary as the district looks at doing business with less money and fewer resources.

"We have eliminated so many people in this district ... we need to look at how we use our resources more efficiently," Garcia said.

She said holding various committee meetings is costly for LAUSD and time-consuming for board members who have other full-time jobs or want to spend more time in their communities and schools.

Just a week after approving a plan to allow independent operators like charters and nonprofits to compete to run new and failing schools, some board members questioned whether now is the right time to cut back on public discussion.

"What message does this send to the community?" board member Marguerite LaMotte asked.

"We are giving away our schools and now we want to get rid of transparency ... so we can do whatever we want in the dark of night," she added.

The proposal would eliminate all committee meetings and replace them with weekly board meetings. The time allotted to speakers could be reduced under the new plan and the fourth meeting of every month would be used to discuss districtwide issues by the entire board.

Board member Steve Zimmer also questioned the timing of the meeting changes, and he asked instead for the board to study ways to bring more parental involvement, such as hosting meetings in different sections of the city and providing child care for parents.

LAUSD Superintendent Ramon Cortines did not say whether he supported the new plan but encouraged the board to spend more time discussing issues "away from the cameras."

Parent advocates, who opposed the idea, were also disappointed that the board placed such an important issue onto a special board meeting agenda just 48 hours before they were scheduled to gather.

"We are all for efficiency, but not at the expense of transparency," said Bill Ring, a longtime parent advocate.

"We just passed a resolution that gives control of our schools to a lot of different stakeholders ... We need to have more conversations, not fewer."

The board is scheduled to vote on the issue later this month.


• PUBLIC SNUB: LAUSD SCHOOL BOARD SHOULD NOT DECREASE INTERACTION WITH THE COMMUNITY

Daily News Editorial

3 September 2009 -- THE Los Angeles Unified School District Board of Education isn't known for its accessibility to the community. The board has placed strict limits on members of the public who wish to speak during regular meetings - going so far as to limit the number of speakers allowed to weigh in on an agenda item.

Now it seems there's an effort to limit public interaction even more. LAUSD board President Monica Garcia's proposal that the board hold fewer public meetings and eliminate its special committees might not be an attack on democracy, but it surely isn't supporting it.

Garcia argues that holding the committee meetings - standing committees include Charter, Finance and Curriculum - is expensive for the district and time-consuming for the board members who have other full-time jobs. She suggests members could spend time freed up from all those bothersome meetings out in their communities and schools.

Critics of the plan, including some board members and parent advocates, say it's not a good idea - and not just because Garcia sprung the proposal on them just 48 hours before Tuesday's meeting.

Board member Marguerite LaMotte said it sends the wrong message to the community. "We are giving away our schools, and now we want to get rid of transparency," she said.

She's got a good point. With the district taking the first tentative steps toward real reform with the schools choice plan, the board ought to be more engaged, not less. In fact, more meetings might be in order. It's sure to be a bumpy start to this innovative and completely new plan to allow outside operators to bid for and possibly win the right to run new and underperforming schools.

There are other concerns as well.

It may indeed be smart to rejigger committees and consolidate meetings, but not if it decreases the opportunity for people to interact with the board as a whole.

These seven board members were elected to represent the public and get paid, not handsomely, but sufficiently, to handle the demands of the job. Meetings are part of the job they asked the public to give to them, and always have been. If they don't want to spend the time, they ought to step down from the board and let someone not bothered by the pesky public meetings to fill in.

As well, many of the standing committees have members who are not board members, and that's a good thing.

The Charter Committee, for example, has an education expert from the University of Southern California, and a charter school operator. Other committees have teachers and principals. Other viewpoints are important, not just for inclusiveness, but for the competition of ideas as well.

Garcia's reasoning that the district needs to save money and do business differently is absolutely on target. But given the size of the district's budget, this is small potatoes indeed.

The board is scheduled to vote on the issue later this month. Hopefully, it will choose not to snub the public and will vote in support of the public's right to watch what the district is doing and its ability to speak out.



HIGHLIGHTS, LOWLIGHTS & THE NEWS THAT DOESN'T FIT: The Rest of the Stories from Other Sources


The Felicitas & Gonzalo Mendez Learning Center: FIRST NEW EASTSIDE SCHOOL IN 80 YEARS HAS A LOT TO LIVE UP TO
By Gloria Angelina Castillo, EGP Staff Writer |Eastside Sun / Northeast Sun A new $106 million state-of-the-art school named for a couple who sued to end school segregation and discrimination in the 1940s and won, opened this week in the densely populated eastside neighborhood of Aliso Pico.


LAUSD's FINEST: THE Los Angeles School Police –0r - How an oblivious school board lets a tiny, scandal-ridden force endanger L.A. kids
By Max Taves published September 3, 2009 in the LA Weekly smf opines+whines: This article - complete with lurid accounts of student sexual abuse under color of authority and posed pictures by professional models like a bad detective magazine - makes some very serious allegations that are hard to take seriously; charges about people with whom I have a professional relationship and a modicum


…AND THERE THEY GO
By BETTY PLEASANT, Contributing Editor, The Los Angeles Wave Updated: Sep 2, 2009 at 11:31 PM PDT -- The Mayor Antonio Villaraigosa-controlled LAUSD board seems to be rushing head-long and willy-nilly into doing whatever it wants to do in any manner it chooses to do it. Latest case in point: They're changing the rules of the board of education Buoyed by her success last week in leading


CALIFORNIA CLASS SIZES GROW AS BUDGET CUTS TAKE HOLD
By Anthony York | CAPITOL WEEKLY 09/03/09 – Sacramento - Next week is back to school week for thousands of children and parents across California. But this year, many parents may be in for an unpleasant surprise on their elementary school child's first day of school. Classes that were essentially capped at 20 students for kindergarten through third grade are growing in size thanks to state


SUPERINTENDENT CORTINES GIVES ANNUAL ADDRESS
Written by Sentinel News Service | Thursday, September 3 - September 9, 2009 ISSUE Aug 26 - Stressing a continued focus on academic achievement and instruction, Los Angeles Unified School District( LAUSD) Superintendent Ramon C. Cortines challenged more than 2,000 administrators and principals to create a personalized learning experience for students, parents as well as teachers and staff in

A's OR B's GIVEN TO MOST [NEW YORK] CITY SCHOOLS
THE SCHOOL REPORT CARD ON THE RIGHT COAST where the mayor wants the schools to look good: "Suddenly, New York City looks like Lake Wobegon, where all the children are above average…" By JENNIFER MEDINA and ROBERT GEBELOFF | NY Times September 2, 2009 -- The news could have been cause for a huge celebration: a whopping 97 percent of New York's elementary and middle schools earning an A

EXIT EXAM SCORES UP
CITY NEWS SERVICE 3 Sept 2009 - LOS ANGELES (CNS) - Seventy-one percent of Los Angeles Unified 10th graders passed the English portion of the 2009 California High School Exit Exam, while 70 percent passed the math section, up slightly from the previous year, state education officials announced today. The percentage of LAUSD 10th graders passing the English language arts section of the exit

PROBLEMS MONEY CAN'T SOLVE
By Ruben Navarrette , Columnist in the San Diego Union Tribune smf: in the print edition of the Union Tribune this column ran with the Headline: Money can't fix all failures in education. Does everyone remember the LA Magazine cover with The Mayor and the big headline Failure.? Do you know how hard it was to not run this column with that image

CORTINES LETTER TO LAUSD STAFF RE: 'PUBLIC SCHOOL CHOICE' RESOLUTION
Public School Choice Resolution Cortines Letter

This just in: VERDUGO HILLS HIGH TO BE EMERGENCY EVACUATION SITE FOR STATION FIRE
by smf | overheard on the radio 7AM Tuesday1 Sept Verdugo Hills High School in Suland/Tujunga will be the first LAUSD school in the current catastrophe to be used as an emergency shelter. For the time being the gymnasium will be used for shelter and the school will remain open . image from the UCLA Mt Wilson WebCam STATION FIRE: Updated Info

HUIZAR CLEARED IN U.S. PROBE, LAUSD to pay Garcia's legal fees
by Howard Blume | LA Times California Briefing Sept 1, 2009 -- Officials have closed a federal investigation into Los Angeles City Councilman Jose Huizar's consulting work for a now-defunct nonprofit linked to organized labor. Huizar had received about $30,000 from the Improvement Program for consulting services he performed in 2003 and 2004 while serving as an elected board member for the Los

DON'T EQUATE CHARTER SCHOOLS WITH "CHARTER LITE"
LAUSD and Los Angeles has more charter schools and charter schools than any school district –and has a complicated relationship with them. I-Division/Partnership/Pilot Schools are attempts to make charters over to fit someone else's vision or agenda of what charters can or should be. In her letter, following, to The Notebook, the Independent Voice for Parents, Educators, Students of

LOW PERFORMING SCHOOLS: Subject to Transformation / Take-Over / Give-Away/Privatization /'Green-Dot-ification' under Public School Choice: A New Way at LAUSD
The list of the schools.

The other shoe drops: AN OPEN LETTER TO BOARD PRESIDENT GARCIA FROM BOARD MEMBER LAMOTTE
Sunday, 30 August, 2009 1:09PM Monica, I have just read your memo dated (actually it is not dated) entitled "Proposed Changes to Rules of the Board of Education". My first reaction was that after the controversy caused by the Board's action on Tuesday and the possible legal ramifications of that, let's find another way to alienate and disenfranchise the people who elected us to office – not

The other shoe drops: PROPOSED CHANGES TO RULES OF THE BOARD OF EDUCATION
4LAKids questions whether circulation of a memo such as the following violates the Brown Act in that it is an advocacy piece from one board member to the others inviting subsequent discussion and perhaps triggers a serial meeting. -----Original Message----- From: Cooper, Amy Sent: Thu 8/27/2009 10:18 AM Subject: From Board President García To: Lamotte, Marguerite; Garcia,

THE FORK DEBATE
"When you come to a fork in the road, take it." - Yogi Berra by Laura Thomas in Ed Week August 10, 2005 -- My husband and I argue over forks. Specifically, we argue over the direction the forks should point in the dishwasher. Tines up, I assert, results in an assured poke in the hand when one (usually me) reaches into the dishwasher to unload. Tines down, he responds, leads to dirty

HIGH MARKS FOR NEW ORLEANS' CHARTER SCHOOLS
By Rick Jervis, USA TODAY NEW ORLEANS — The devastation of Hurricane Katrina four years ago brought with it many changes for this city, but perhaps its most enduring mark may be the new charter school system that came cascading in during the storm's aftermath. Take, for instance, the students at Langston Hughes Academy. Once struggling to meet state testing standards, they're getting a lot of

LAUSD's NEXT STEP/PRÓXIMO PASO DEL LAUSD
LAUSD's next step Editorial| La Opinión 2009-08-30 -- The Board of Education of Los Angeles Unified School District (LAUSD) approved a measure this week to open up 250 schools to private operators in an attempt to improve student achievement. The action is one positive response to the frustration expressed by parents, but it is just

Q: What is a PI 3+ School?
CALIFORNIA FATHER asked what a Program Improvement Three plus school is. Good question - let me attempt a good and hopefully helpful AND correct answer!Simply stated this is a school that has not met it's NCLB Annual Yearly Progress (AYP) Goals in one or more subgroups for three years in succession or longer. Note that these need not be the same subgroups missed in all three years.As such PI 3+






EVENTS: Coming up next week...


*Dates and times subject to change. ________________________________________
• SCHOOL CONSTRUCTION BOND OVERSIGHT COMMITTEE:
http://www.laschools.org/bond/
Phone: 213-241-5183
____________________________________________________
• LAUSD FACILITIES COMMUNITY OUTREACH CALENDAR:
http://www.laschools.org/happenings/
Phone: 213-893-6800






What can YOU do?


• E-mail, call or write your school board member:
Yolie.Flores.Aguilar@lausd.net • 213-241-6383
Tamar.Galatzan@lausd.net • 213-241-6386
Monica.Garcia@lausd.net • 213-241-6180
Marguerite.LaMotte@lausd.net • 213-241-6382
Nury.Martinez@lausd.net • 213-241-6388
Richard.Vladovic@lausd.net • 213-241-6385
Steve.Zimmer@lausd.net • 213-241-6387
...or your city councilperson, mayor, the governor, member of congress, senator - or the president. Tell them what you really think! • There are 26 mayors and five county supervisors representing jurisdictions within LAUSD, the mayor of LA can be reached at mayor@lacity.org • 213.978.0600
• Call or e-mail Governor Schwarzenegger: 213-897-0322 e-mail: http://www.govmail.ca.gov/
• Open the dialogue. Write a letter to the editor. Circulate these thoughts. Talk to the principal and teachers at your local school.
• Speak with your friends, neighbors and coworkers. Stay on top of education issues. Don't take my word for it!
• Get involved at your neighborhood school. Join your PTA. Serve on a School Site Council. Be there for a child.
• If you are eligible to become a citizen, BECOME ONE.
• If you a a citizen, REGISTER TO VOTE.
• If you are registered, VOTE LIKE THE FUTURE DEPENDS ON IT.





Scott Folsom is a parent leader in LAUSD. He is Past President of Los Angeles Tenth District PTSA and represents PTA on the LAUSD Construction Bond Citizen's Oversight Committee and the BOC on the Board of Education Facilities Committee. He is an elected repreprentative on his neighborhood council. He is a Health Commissioner, Legislation Team member and a member of the Board of Managers of the California State PTA. He serves on numerous school district advisory and policy committees and has served a PTA officer and governance council member at three LAUSD schools. He is the recipient of the UTLA/AFT 2009 "WHO" Gold Award for his support of education and public schools - an honor he hopes to someday deserve. • In this forum his opinions are his own and your opinions and feedback are invited. Quoted and/or cited content copyright © the original author and/or publisher. All other material copyright © 4LAKids.
• FAIR USE NOTICE: This site contains copyrighted material the use of which has not always been specifically authorized by the copyright owner. 4LAKids makes such material available in an effort to advance understanding of education issues vital to parents, teachers, students and community members in a democracy. We believe this constitutes a 'fair use' of any such copyrighted material as provided for in section 107 of the US Copyright Law. In accordance with Title 17 U.S.C. Section 107, the material on this site is distributed without profit to those who have expressed a prior interest in receiving the included information for research and educational purposes.
• To SUBSCRIBE e-mail: 4LAKids-subscribe@topica.email-publisher.com - or -TO ADD YOUR OR ANOTHER'S NAME TO THE 4LAKids SUBSCRIPTION LIST E-MAIL smfolsom@aol.com with "SUBSCRIBE" AS THE SUBJECT. Thank you.